The Lockheed Martin F-16N Navy Falcon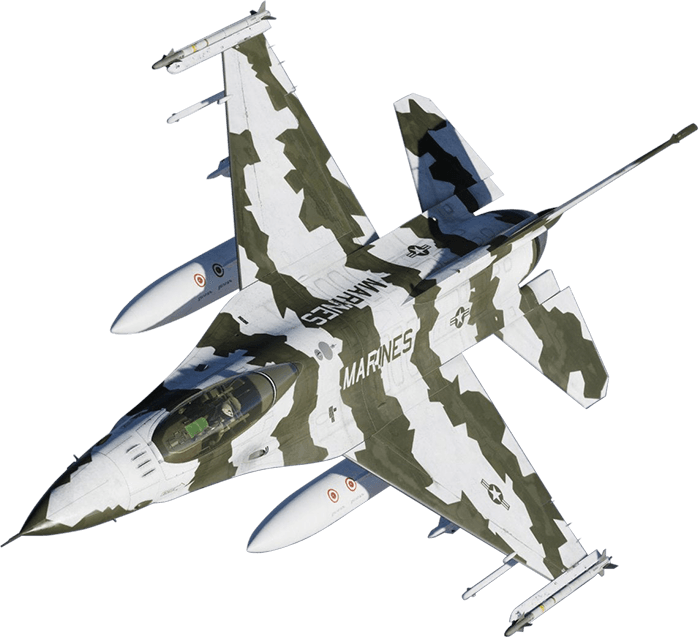 Even if medium and long-range air-to-air missiles, such as the AIM-7 Sparrow and the AIM-120 AMRAAM, have been integrated in the F-16 since 1986 for BVR (Beyond Visual Range) engagements, the Viper (the universal F-16's nickname) was born in response to LWF (Light Weight Fighter) program, for a small and agile fighter: the U.S. Air Force needed a small, cheap, maneuverable airplane to flank the F-15 Eagle, its air superiority fighter, and face the small Soviet fighters, such as the MiG-21 in close combat.
Indeed the Viper can maneuver against any opponent, proving to be the ideal adversary (or "aggressor" in the Air Force jargon) aircraft for both U.S. Air Force and U.S. Navy training programs. Arguably the best version of the Fighting Falcon having played the bandit role has been the F-16N.
Born in response to the need of the Navy to replace its aging fleets of A-4 Skyhawks and F-5 Tigers adversary fighters, the F-16N was a basic F-16C Block 30 with the General Electric F110-GE-100 engine.
The F-16N was typically equipped with the Air Combat Maneuvering Instrumentation (ACMI) pod on the starboard wingtip and to completely simulate adversaries, the ALR-69 Radar Warning Receiver (RWR) and the ALE-40 chaff/flare were also incorporated.
To save weight the internal cannon was removed and the aircraft could not carry air-to-air missiles, even though it retained the APG-66 radar from the F-16A/B models.
Twenty two single seat F-16Ns along with four two seat TF-16Ns were delivered in the late 1980s to the Navy and four units flew the jet: the VF-126 Bandits and the Fighter Weapons School both based at Naval Air Station (NAS) Miramar, the VF-45 Blackbirds based at NAS Key West and the VF-43 Challengers based at NAS Oceana.
According to Rick Llinares & Chuck Lloyd book Adversary America's Aggressor Fighter Squadrons, since the U.S. Navy didn't own any Fulcrum or Flanker, the F-16N was the best fighter to replicate the then new fourth generation Russian fighters and finally F-14 and F/A-18 crews could fight against a real different aircraft. In particular, against the Tomcat, the nimble F-16N was a very challenging adversary.
Unfortunately the F-16N began to experience the wear and tear due to the excessive g's sustained during many aerial engagements and in 1994 the Navy decided to retire the type since the costly repair to keep the Viper flying can't be afforded. But even if as bandit the F-16N was replaced by the F-5 which was the fighter the Viper intended to replace, the F-16N still remains the best adversary fighter ever flown by the U.S. Navy. – The Aviationist